#1 Sighthound
Smart security camera software for your home or business
Not all security camera software is created equal. Sighthound Video puts powerful computer vision technology that is normally only deployed by government agencies into software you can have up and running in minutes.
People Detection.
Not just motion detection
Sighthound Video has been trained to recognize people and objects in the same way that a human brain works. Receive a mobile alert or email when people are detected, not when animals or cars pass by.
Your home security
Use the power of Sighthound Video to make the video surveillance system in your home smarter. It's affordable home security monitoring software that works with most cameras and outperforms the alternatives. With HD live streaming support, custom zones, and remote access, you can finally have peace of mind while you're away. More uses for home video surveillance
#2 BcWebCam – Use webcam to read barcode
Simply hold the webcam in front of the bar code and bcWebCam reads the barcode over the camera and automatically copies the contents into your browser, notebook or any other application. 
Use the reading, for example, when selling in the Amazon Marketplace, on Ebay, Booklooker or Swap Tickets.
How it works
You start bcWebCam, position the cursor in your application program and hold the barcode in front of the camera. The barcode is read automatically, the article number is copied to the input field. You save typing and avoid errors.
BcWebCam is a modern software based on the Microsoft .NET Framework 3.5 for Windows-PC. 
The barcode recognition is carried out with the QS-Barcode SDK, which has been successful for many years
How barcode reads with bcWebCam
Three simple operating steps,
You already have the barcode content where you need it.
#3 Luxand FaceSDK
What is FaceSDK?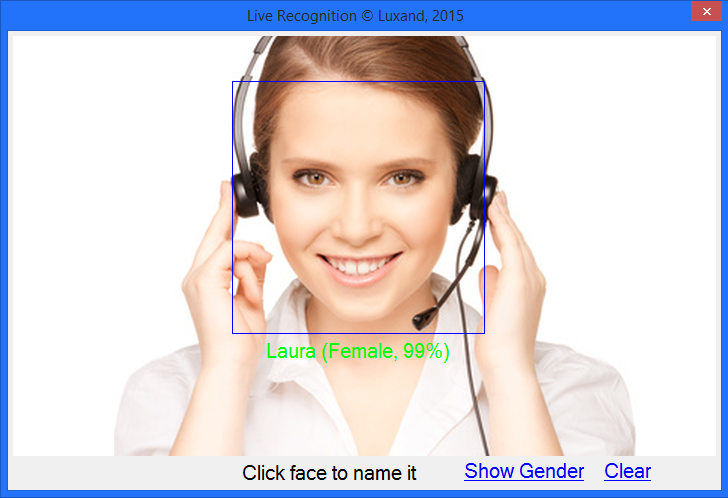 FaceSDK is a high-performance, multi-platform face recognition, identification and facial feature detection solution. Serving software developers worldwide, FaceSDK is a perfect way to empower Web, desktop and mobile applications with face-based user authentication, automatic face detection and recognition.
Compatible with 32- and 64-bit desktop environments and mobile platforms including iOS and Android, FaceSDK is easy to integrate with new or existing projects, enabling developers to create a wide variety of applications. The system detects entire faces and individual facial features, recognizes faces in still images and in real-time video streams, and allows the creation of a wide range of applications from simple automatic red-eye removal tools to biometric login solutions.
The innovative Self-learning AI system enables seamless recognition and identification of subjects appearing in video streams, allowing building attendance control, security and surveillance systems that require no prior enrollment. FaceSDK can help building of complex face morphing and animation systems for entertainment portals.
What's in FaceSDK?
FaceSDK enables Microsoft Visual C++, C#, Objective C, VB, Java and Delphi developers to build 32-bit and 64-bit applications for Web, Windows, Linux, macOS, iOS and Android with face recognition and face-based biometric identification functionality.
FaceSDK is used in hundreds of applications for identifying and authenticating users with webcams, looking up matching faces in photo databases, automatically detecting facial features in graphic editors, and detecting faces on still images and video streams in real-time. FaceSDK has been used for building secure identification, surveillance, time and attendance control systems.
#4 How Evernote's Image Recognition Works
Evernote's ability to search for text within images is a popular feature. In this post, I'll describe how the process works and answer some frequently-asked questions.
How images are processed
When a note is sent to Evernote (via synchronization), any Resources included in the note that match the MIME types for PNG, JPG or GIF are sent to a different set of servers whose sole job is performing Optical Character Recognition (OCR) on the supplied image and report back with whatever it finds. These results are added to the note in the form of a hidden—that is, not visible when viewing the note—metadata attribute called recoIndex. The full recoIndex node is visible when a note is exported as an ENEX file.
For example, I dug around and found an old note in my account containing only a single photo of a bottle of beer:
When I export this note as an ENEX file—a portable XML export format for Evernote notes—and jump to the bottom of the file, I'll find the recoIndex element. Contained within recoIndex are a number of item nodes. Each item represents a rectangle Evernote's OCR system believes to contain text.
Each item contains four attributes: x and y indicating the coordinates of top-left corner of the area represented by the item, as well as w and h representing the width and height of the item.
As an image is evaluated for textual content, a set of possible matches is created as child elements to their corresponding item. Each match is assigned a weight (represented by the w attribute of the item): a numeric value indicating the likelihood that the given match text is the same as the text in the image.
The OCR results are embedded in the note, which is subsequently synchronized back to the user's client applications. At this point, the text found in the image is available for search.
Here's a portion of the recoIndex element found in the note shown earlier which contains item and t (match) elements. You'll notice that most of the item elements have multiple t elements and each is assigned the weight value we described earlier. When a user issues a search within an Evernote client, the content of the t elements is searched:

How PDFs are processed
Evernote's OCR system can also process PDF files, but they're handled differently from images. When a PDF is processed, a second PDF document that contains the recognized text is created and embedded in the note containing the original PDF. This second PDF is not visible to the user and exists only to facilitate search. It also doesn't count against the user's monthly upload allowance.
For a PDF to be eligible for OCR, it must meet certain requirements:
It must contain a bitmap image
It must not contain selectable text (or, at least, a minimal amount)
In practical terms, this eliminates many PDFs generated by other applications from text-based formats, such as word processors and other authoring applications. PDFs that are generated by hardware scanners generally meet the above requirements. If the scanner software performs its own OCR on the PDF, it won't be processed by Evernote's OCR service.
If you export a note containing a PDF that has been processed by the OCR system, there will be two nodes in the document: data and alternate-data. The data node contains a base–64 encoded version of the original PDF and the alternative-data represents the searchable version of the same PDF.
#5 Vitamin D video
Vitamin D Video detects people and moving objects in video. Our easy-to-use software brings professional-grade video monitoring to anyone with a webcam or network camera.
Getting Started
This section describes how to install Vitamin D Video and get it running with your camera or cameras.
If you have a camera that is set up and running on a network:
To get Vitamin D Video working with your camera , click here.
If you have a new network camera that is not yet set up:
For cameras that support the "Universal Plug and Play" standard (UPnP), such as Airlink, Axis, D-Link, Linksys, Panasonic or Y-Cam, click here.
For other cameras, such as Sony, ACTi, or TrendNet, use the software that came with your camera to set it up, then follow the instructions above to get Vitamin D Video working with your camera. (Note that TrendNet cameras support UPnP, but the feature is turned off out of the box.)
For IQinVision (IQeye brand) cameras, some support UPnP and some do not. Check your camera's documentation before proceeding.
Troubleshooting tips for setting up specific cameras can be found here.
Advanced instructions to find and configure network cameras manually can be found here.